Select from the following types of glasses, next select shape and proceed to enter size in CM and thickness of glass you wish to buy. Click select button to proceed.
Glass home delivery in Navi Mumbai Custom cut glass and replacement glass for dining table top, glass for outdoor patio table, coffee table glass, teapoy glass. Toughened / tempered & annealed glass delivery in Navi Mumbai. Whether you need a custom table top glass, glass for shelf tempered glass toughened glass, tinted glass, buy glass with thickness 04 mm, 05 mm, 06 mm, 8 mm, 10 mm, 12 mm and special purpose glasses 15 mm & 19 mm thick glass, we are capable of giving you what you need.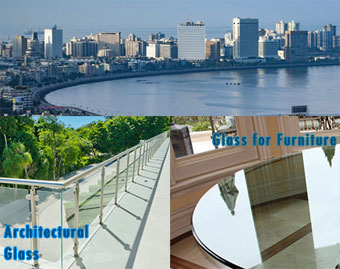 Very easy and simple steps to order custom cut glass, select the shape of glass, enter measurements in centimeters (CM) select thickness, edge polishing and corner polishing to confirm glass order. Available glass shapes are square glass, rectangle glass, round glass, racetrack oval glass, elliptical glass. Bronze tinted and grey tinted toughened & standard float glass available in Navi mumbai.
Glass delivery time period in Navi Mumbai for standard glass is maximum 5 days and toughened glass can take up to 7 days.