An Introduction to Stained Glass
Do medieval churches and cathedrals come to your mind when you think of stained glass? Yes, stained glass has been around for thousands of years, right from 3rd or 4th century AD, especially used in churches, monasteries and cathedrals. Stained glass is also an integral part of Islamic architecture, especially in palaces and mosques across the Middle East.
Today, stained glass has made its mark in both industrial and residential architecture. It is now globally recognized by glass manufacturers and suppliers.
What is Stained Glass?
Stained glass is nothing but coloured glass used to make decorative designs that create a picture or tell a story. Normal uncoloured glass is made by fusing numerous raw materials like silica, an alkali and limestone or lead oxide. This raw mixture when heated at extremely high temperatures creates a new material called glass. Stained glass is made by adding metallic oxides to the raw mixture before heating it, to obtain the desired colours.
Since glass at high temperature is almost similar to a liquid, it can be poured, blown, or moulded into numerous shapes and sizes. For stained glass, this molten mixture is rolled into thin sheets, cooled and shipped to craftsmen to create stunning stained-glass artwork.
Possible Colours in Glass
Technological advances have now made it easy to produce glass in different colours under different conditions. Glass manufacturers use metallic oxides to make hundreds of tints, colour, and patterns in different textures, for shipping globally.
For example, copper oxide gives shades of red and blue. Iron oxide gives shades of bluish-green. While chromium will produce shades of green, titanium or uranium will produce golden coloured glass. Adding gold yields a rich ruby-coloured glass.
How is Stained Glass Made?
There are six basic steps in making stained glass. They are:
The first step is designing the pattern, where the type and colour of glass are specified.
The next step is to cut the procured glass into required shapes that will form the final design.
Usually, painting is not needed as the glass will already have the specified tint. However, sometimes a special vitreous paint is used on the outer surface of the glass. On heating, this paint merges with the glass.
The different pieces are now joined together using lead calms, thus forming the individual panel.
These panels are then assembled to complete the design, in a process called glazing where the individual lead calm joints are soldered together.
Finally, a semi-liquid cement is applied on top of the stained glass to make it waterproof. The final panel is then brushed using a dry brush.
Stained Glass in Historic Buildings in India and around the world
Decorative windows and domes made of stained glass can be commonly found in historic buildings.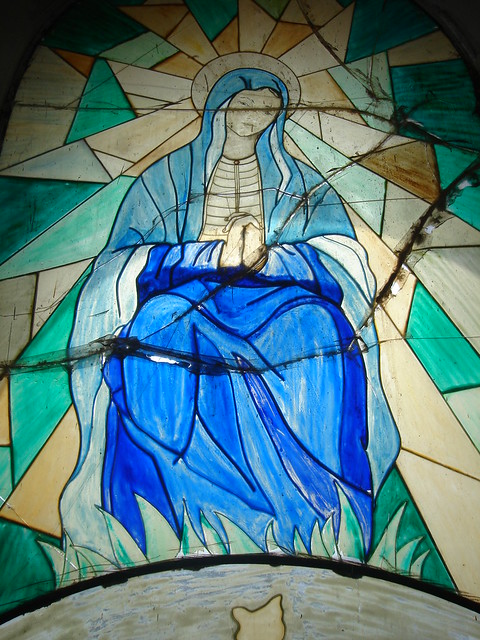 Stained glass art at Saligao Church in Goa which was built in 1873.
The oldest example is the 11th century-stained glass windows of the Augsburg cathedral in Germany. The Parisian Sainte Chapelle has 15 tall stained-glass windows of 50-feet height that depict local history.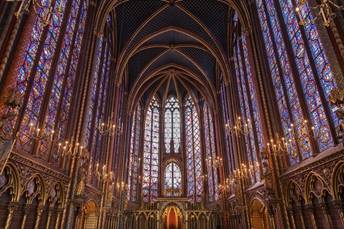 Stained Glass Windows of Saint Chapelle, Paris
The three-dimensional inverted bell-shaped stained-glass skylight that drops down from the ceiling is the centre of attraction at the Palau de la Música Catalana in Barcelona, Spain.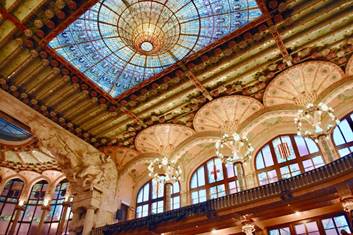 Stained Glass Skylight at Palau de la Música Catalana in Barcelona, Spain
The Nasir al-Mulk Mosque or the Pink Mosque in Shiraz, Iran has richly-coloured stained glass windows containing all colours of the rainbow. They are a testimony of beautiful stained-glass craftsmanship from the Middle East.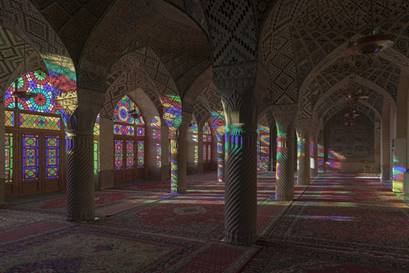 Stained Glass Windows of the Nasir al-Mulk Mosque in Shiraz, Iran
Multiple Applications of Stained Glass
In modern times, the most prominent person to have worked with stained glass is Louis Comfort Tiffany. The world-famous American company Tiffany & Co., designs and produces a variety of products using stained glass.
Stained glass can last a lifetime and add incomparable beauty to any environment. Stained glass lets light in while still providing opacity. For modern architects and designers, stained glass inserts are the perfect choice for doors and windows, ceilings, entryways, skylights, partitions, dividers or cupboards, and even the bathrooms. Other than just houses, pubs, hotels, restaurants, corporate buildings, educational campuses, conservatories and greenhouses too incorporate stained glass in their architecture.
Nowadays, you will also find a variety of objects that are made of stained glass. For example, lamp shades, jewellery, ornaments, personal accessories, canister sets, bottles, figurines and a host of other decorative and fancy items.
To conclude, stained glass has been dazzling generations from time immemorial and is now transforming the future of architecture.