Posted on : 11-11-2021 Author : Neethu G Damodhar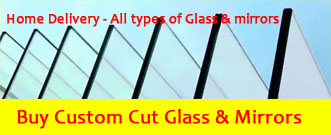 An irregular shape mirror has a shape distinct than a regular one but that does not make it ineligible for your home décor. Believe it or not, many of us think that this style of mirror is not going to fit right to any home decor.
It is a common belief that an asymmetrical wall mirror is modern but quite simple in design. However, just because of its unique shape, such a mirror does not necessarily look simple or something abstract. A mirror that is made using many asymmetrical smaller mirrors can render a cool and unique look. The bubble wall mirror is the best example here.
Moreover, these mirrors also come in themes. For example, they can reflect a variety of animals, scenes, vintage arts, and shapes. A Moroccan mirror can introduce a vintage-cum-royal theme to your modern living room, while a fish-shaped mirror can add fun to your beach house. There are several options in the world of irregular specialtymirrors for different decors.
The irregular shape actually does go with the overall décor style. Ornate styles and matching colors can help make your space feel coherent. Following are the most common irregular shape mirrors to consider for your home:
Frameless These asymmetrical mirrors are ideal for homes featuring a minimalistic style. They are always in trend and are likely to be bigger as well as more affordable than those with a frame.
Full Length
These mirrors are ideal for checking yourself from head to toe. These home décor mirrors are ideal for dressing corners or rooms. They are usually framed.
Leaning
As the name indicates, the bottom of asymmetrical leaning mirrors touches the floor; whereas, the top portion touches the wall. They are typically vertically bigger in size and come with a robust frame. They add a sophisticated touch to your space apart from being functional. However, they are not for homes where there are kids. This is because a simple push can make these mirrors fall down.
Vanity
Consider these irregular mirrors if you are looking for a more distinct as well as striking addition than a normal round or rectangular option. They are both artistic and functional. Through an irregular vanity mirror, you can have a look at your makeup. Usually, it is positioned on a wooden base.
For Walls
Asymmetrical mirrors for walls are either framed or frameless. You should choose from the two considering your house style. These mirrors are either mounted onto the wall or stuck using an adhesive. If you choose a framed one, you can opt for a wooden framefor a space draped in a traditional style or a metallic frame for a formal space.
As Sets These are purely for decoration purpose. Irregular shape mirrors are available in sets of two to six pieces that can go on a wall. A single set may have mirrors of different shapes or of a single irregular shape. Consider arranging each piece to form a unique pattern. Most sets will have framed pieces.
The asymmetrical wall mirrors are for both fun and function while adding an exclusive touch to your space. They are certainly not those boring or awkward additions! Whether you require an irregular shape mirror to augment the visual appeal of your wall or a unique asymmetrical mirror for a narrow space, you will definitely one for your needs.