Posted on : 13-08-2021 Author : Nita R Reddy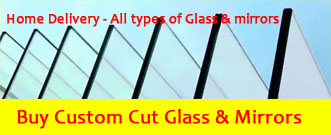 Have you just brought your new glass table? It must be aesthetically appealing, right? It must be even made using the strongest glass piece, right? Well, this does not mean that your glass top will never break or scratch. After all, even the strongest glass is prone to scratches if it is put under pressure. Keeping this in mind, here are the most effective ways to e proactive and protect your glass table:
Keeping it at a safe location
This is perhaps the first step to take when it comes to protecting a glass table. A safe location means where there is enough light to keep breakage or other harms to the table at bay and where the table does not come in someone's way.
You should consider keeping your glass table where lots of natural light can make it visible to everyone. At the same time, there should not be hightraffic in that area or is placed away from the moving people in that area. Otherwise, if items fall on the table, especially the heavy ones, it will not take time for the table to crack or chip.
Not keeping items on the table
This way of protecting the table will help in keeping scratches at bay. This is essential even if the table has a tempered glass surface that is stronger than normal glass.You should not keep things such as toys, plates, bowls, and items with rough bases or sharp edges directly on the glass table.
Using Coasters, Runners, and Mats
It is a fact that most of us have a habit of putting hot mugs and hot bowls on the glass table. Even the guests have the same habit. However, it seems a bit awkward to stop the guests from putting the tea mug on the table.
So, an ideal way to prevent this habit from damaging the glass top is to place a decorative mat. Alternately, you can use coastersfor keeping mugs and glass and/or placing an attractive runner or a tablecloth across the surface.
Using Rubber Bumpers
Rubber bumpers are known for keeping the tabletop glass from falling or sliding off its base, which can otherwise result in shattering the glass. They are available in a variety of colors, shapes, and sizes. To add a vivid touch, consider colorful bumpers.
Using Rubber Pads
Using these pads on the glass table legs is useful, as they help in absorbing vibrations and shocks triggered due to any jostling tasks. These pads are also capable of keeping trembling motions at bay, which could otherwise shatter the glass.
Cleaning the Glass Table
This is a no-brainer! It is essential to take proper care of the glass top by cleaning it in the right way. For this, you need to know and follow the dos and don'ts. Avoid using abrasives and cleaners containing any acid or ammonia and wiping the top with paper towels.
If you wish to choose a commercial cleaner, consider the one with light aerosol foam. Such a cleaner is known to leave the glass top sparkling with just a one-time spray and wipe. If you wish to try an affordable cleaner, consider making one at home by mixing water and white vinegar.
Regularly Maintaining the Glass Top
Cleaning is good but regular cleaning is wise. You need to make and follow a schedule for regular cleaning and maintenance. In other words, consider dusting using a cloth and cleaning at least thrice a week.