Posted on : 13-01-2022 Author : Trisha Gurudas
Curved glass furniture is more visually pleasant than the standard flat glass furniture. This is obvious because curved glass has a unique ability to reflect a curvature or bend in its design. Thus, curved glass is also known as bent glass.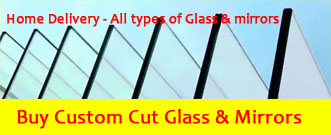 The ability to form a curve ends up giving a variety of design options to the architects.
Bent or curved glass is an extremely versatile material that is safe, lasting, and easy to maintain. It has a thrilling range of uses in buildings and furniture. Right from bent glass tables in the interior to the curved glass facades in the exterior, the applications of this unique glass are boundless. So, let us find out more about this glass and its uses.
Technically, What Is Bent / Curved Glass?
Typically, curved glass refers to the glass bent in either 2D or 3D way. A 2D model features the orientation of curvature in a single direction, forming a cylindrical shape. On the other hand, a 3D model features a multi-directional bend ending in a complex curve, such as in a glass dome.
How is Curved / Bent Glass Made?
Although aesthetically attractive, a simple piece of bent glass on your window or lightshade is quite tough to create. Indeed, there are only a handful of bent glass India manufacturers who use a special process for production.
The labourers, first, cut the glass sheet to get the desired size and then make it spotless and finish it. This is done using a UV lamp so that all the impurities are removed, which would otherwise cause the glass to crack.
They make a steel mould cut to the curved piece's radius and dimensions. To prevent the piece from gluing to the mould, a mixture of calcium carbonate and detergent is applied to the glass surface.
Next, the piece is positioned on the mould and added to the furnace wherein the temperature is 700°C. This is hot enough to release the bonds between the molecules of silica. This is required to soften the glass so that it can be bent to the shape of the mould. Once this happens, the glass is allowed to cool down for almost two hours.
The 2D curved glass is the most common, cost-friendly, and easiest option to produce. A single directional curve is made using Computer Numerically Controlled (CNC) equipment on a flat sheet of glass.
On the other hand, the 3D process involves the flat sheet to either compress into itself or expand in various directions. It can even include a combination of both. The process needs a special tool to have the required finished shape. Overall, this is a time-consuming and labour-intensive process.
What Are the Uses of Curved Glass?
Bent glass has both artistic and practical applications. Externally, it is used in the windows, shop fronts, balustrades, roof tiles, windows, and facades of various buildings including hotels and skyscrapers. Internally, it is used in room partitions, shower enclosures, showcases, revolving doors, spiral staircases, and elevator panels.
In the architectural domain, curved glass is used in making solariums, domes, barrel vaults, overhead skylights, and aquariums. In homes, it is becoming common to have bent glass furniture such as windows, wall shelves, counters, bath screens, basins, and partition panels. Even lighting systems and cladding systems are adorned with this glass. You can also, nowadays, easily spot a curved glass coffee table or bent glass office desk.
Is Bent / Curved Glass Toughened Glass?
Toughened glass is formed by heating glass to around 700° Celsius after which its surface is allowed to cool quickly. This results in shock resistant, durable, and highly strong glass. Not all but many bent glasses are made using this technique. So, a bent glass is not always a toughened glass. Always ask this before you buy.
Once the temperature of 700° Celsius is reached, the glass pane softens. This is when it is curved to get the intended shape. Finally, it is cooled down rapidly (toughened). The bending process paves way for a variety of designs for use in architectural, commercial, and residential projects.